A proposed plan for one-story lifestyle in Cheasapeake, Virginia.

Our featured plan is The CULPEPPER BUNGALOW.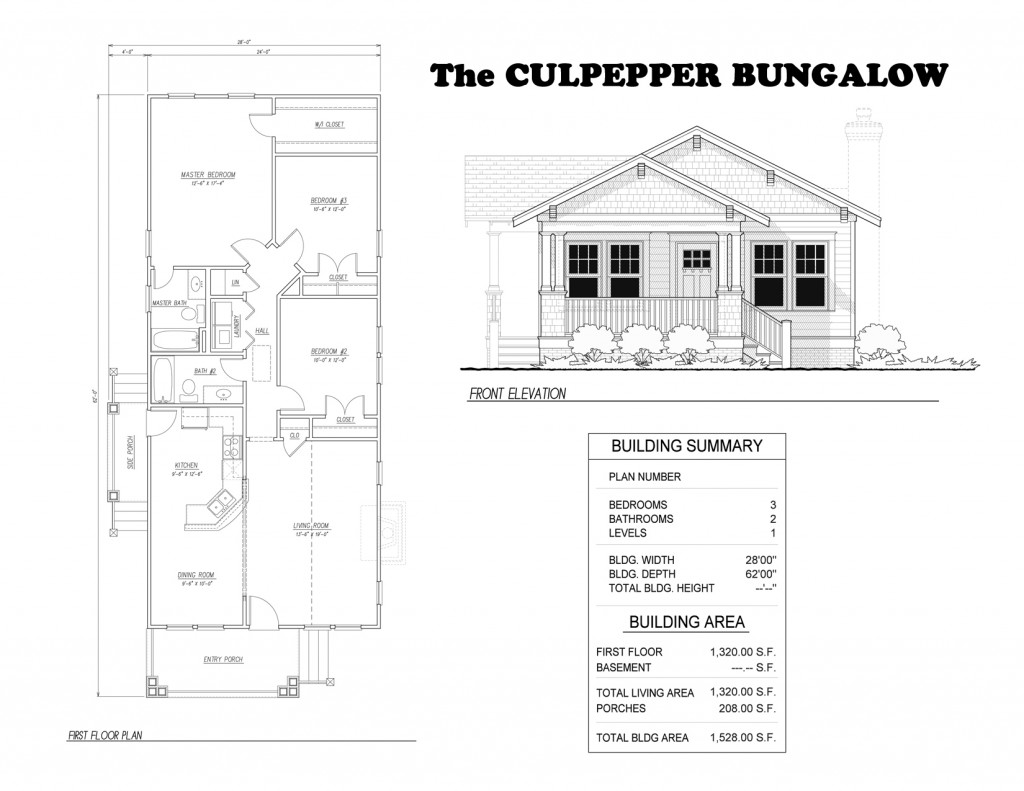 The name of this model house plan is inspired by CULPEPPER LANDING – a subdivision of single-family and town homes located in the historic Deep Creek area in Chesapeake, Virginia. The homes there are styled for neighborhood living in what the developers refer to as "small town" America. This arrangement offers small lot home sites for middle class families where many of the houses have front porches with driveways and garages that are out-of-street view. These neighborhoods also feature parks, nature trails and public playgrounds.
The CULPEPPER BUNGALOW is a craftsman style architectural design. It is a one-story plan with a side yard porch for access to a driveway that is located on the side of a 50-foot lot. This is also where a detached garage lies at the rear yard of the property. The side entry to the Kitchen is not only convenient, but also facilitates extended family gatherings on the driveway, back yard and for picnicking in the garage. The layout is reminiscent of a time when affordable living in "small town" America was simple, and neighbors were welcomed at the back door.
All of our plans can be customized for individual homeowner preferences. This model is ready-to-build and engineered for permits in Chesapeake, Virginia. It has three-bedrooms, two-bathrooms, a front sitting porch and a covered side porch in the yard. The exterior wall is covered in low maintenance synthetic shingles. The total living space in this model is less than 1,350 SF, arranged for open plan living with good closet storage space throughout. We have many other stock model plans to choose from. They can be seen on our website, including many two-story plans that are similarly styled for "small town" America.
Total Living Area: 2,227 + sqft
Width: 28′ 00″
Depth: 62′  00″
Bedrooms: 3
Bathrooms: 2
For more information, please contact us with the information below. We look forward to hearing from you!