Neighborhood Preservation – Design Center – Norfolk, VA
posted on Friday, September 9th, 2011 at 7:50 pm
The life expectancy of a 100+ year-old frame houses reaches a point of critical repair or removal that is a challenge for city planners to maintain traditional urban neighborhoods, such as Norfolk, VA. How can city planners control what happens to maintain or restore the original character of these streets? ENTER: The Design Center conveniently operating in a storefront on a sidewalk of the downtown core: an administrative office, under the Department of Planning, to advise/regulate the redevelopment and preservation of urban neighborhoods.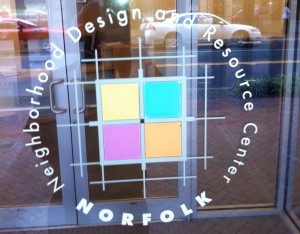 Any new/replacement house on a lot 50' or narrower has to be approved by the watchful eye of The Design Center. (At Building Permit Review no plan gets a permit unless and until its design is approved by the Design Center.) Where does the DC get the plans to recommend for replacement? ANSWER: from its catalog of prior-approved plans contributed by local architects and designers. As an alternative, the property owner can create a new plan for submittal/review/approval by the Design Center.  Here's a sample of some ready-to-build urban house plans.
The redevelopment of a NARROW LOT is an aggravated issue in Norfolk, Virginia. In the early 1900's developments were platted with 25' and 30' lots. These small lots had a very attractive price for prospective buyers. It may have been a "bait and switch" marketing strategy since many of the lots were sold in pairs. But it did result many streets with very compact home frontages. A hundred years later we now see these streets as "quaint", "neighborly", "walkable", but not "parkable" (damn that automobile!)
Since any given neighborhood street has its own special architectural character or style, house plan choices recommended by the Design Center are limited to those that are best suited upon an inspection and photo documentation of the adjacent properties and across the street. This architectural sensitivity has produced very constructive results, without a backlash of homeowner controversy. Norfolk's Design Center initiated its mission in 2004, staffed by planners and aspiring architects including interns from nearby Hampton University, School of Architecture.
Added to the mission of prescribing acceptable house plan designs for narrow lot properties the Design Center has been available for free "drop in" architectural consultation services for a homeowner wanting to make improvements to an already existing house needing repairs or an addition. This consultation included a staff designer making a visual site inspection of the resident's home to measure and photograph an existing structure, to talk to the home owner about their desired improvements and additions and to provide conceptual design recommendations for the homeowner to pursue.
The "cherry on the top" of this new urbanism agenda is a TAX ABATEMENT program whereby a homeowner could apply for a deferred increase in the real estate taxes (up to 10 years worth) associated with the construction improvements consistent with the conceptual design recommendations provided by the Design Center. What could be simpler than that? …an incentive to control the original architectural neighborhood style, historical charm, pedestrian livability. Are you loving it?

Ready for the back story? Everyone loved it, including local new urbanism architects, like yours truly, since we participated in providing those pre-approved plans. It also wasn't too mysterious to flip through the plans catalog to find the name of a local architect that would be able to complete the building plans for additions and alterations that would gain tax abatement approval. That happy world came to an end in 2011 with a cutback in local government funding. The free consultation services are no more. The storefront where citizens walked in to discuss their addition plans has closed its doors.
The operational model of the Norfolk Design Center has been envied by municipalities for years, including Baltimore, Portsmouth, Virginia Beach, Newport News, Williamsburg, and others. The more character there is to preserve in a city's existing neighborhood street fabric the greater the appeal of this model to preserve and control it. It was staffed by two full-time architects, part-time architect interns, volunteers and staff. It became a lunch-and-learn venue for architects in the Hampton Roads AIA to attend special seminars and other times for citizens to get guidance for product information and architectural design styling.
I am interested in feedback on value of this model for architectural design control for preserving and promoting the ideals of new urbanism, from planners, homeowners and other design professionals. Is the model for the Design Center an applicable idea for the city where you live? How should it be housed and staffed to reduce expenses? In Norfolk the tax abatement program and the narrow lot approval regulatory authority have moved back to the regular administrative offices of Norfolk City Planning. I wonder what difference this will make in what it is able to accomplish. I think it is a sad loss.
Tags: architecture, Design Center, narrow lot, Neighborhood, new urbanism, Norfolk, pattern book, preservation, resource center, tax abatement, traditional, urban
2 Responses to "Neighborhood Preservation – Design Center – Norfolk, VA"
|
|