New Code Allows remodeling attics of 3-story homes
posted on Wednesday, March 14th, 2012 at 1:49 pm
Starting March 1, 2012, the entire State of Virginia began enforcing a new building code entitled the 2009 Virginia Construction Code. That means that a new permit issued for a residence after this date is required to adhere to additional regulations and modifications to the former codes that had been in force. It is applies to commercial buildings too.
An opportunity for a remodeling project that comes with the new code is something called a "Habitable Attic". This was previously not possible to do under the old residential code since any improvements to the attic of a three story dwelling was considered an additional story and would be a governed by the IBC code that requires a fire suppression sprinkler system as a 4-story structure.
Remodeling an attic for habitation or storage benefits the livability of three-story homes, not uncommon in Norfolk, though very scarce in Virginia Beach due to the difference in the way that building heights are calculated in each city. The maximum building height limit in each city is 35'. However, it is not possible to design an attic with enough space to be of useful value in Virginia Beach, whereas in Norfolk 35' is measured from the grade at the front door entrance to the midpoint of the main sloped roof. A schematic cross section comparison illustrates the difference in the way building height is measured in each city.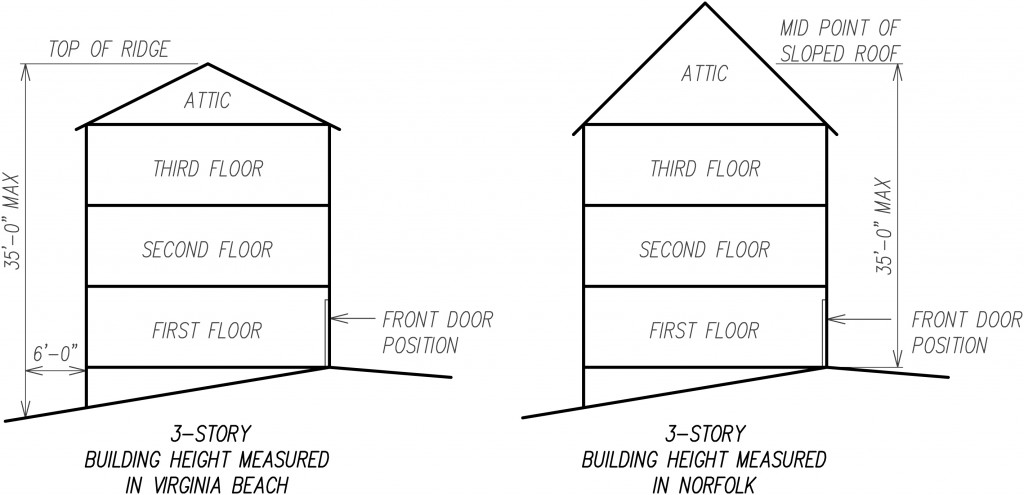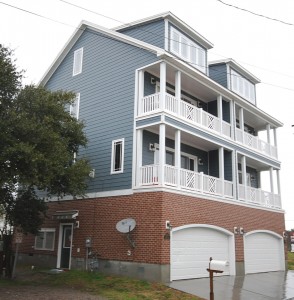 There is a serious architectural limitation with way that Virginia Beach measures building height. A three-story residence designed in Virginia Beach will have a very shallow roof slope in order to comply with building height measured to the ridge rather than the midpoint of the sloped roof, as is the case in Norfolk. Also Virginia Beach uses a baseline that is the lowest established grade within 6-0 of the foundation of the house. Norfolk uses a baseline that is the grade at the front door entrance. Steep roofs are a visually appropriate for historical or traditional architectural styles making it virtually impossible to design such a three-story residence in Virginia Beach. The addition of dormers, such as the photo example, shows how a Habitable Attic can be made to be a very hospitable living space.
Tags: 2009 IRC, building height, design, dormer, habitable attic, three story, traditional architecture