Plan a wedding along a river boardwalk, adjacent to a gorgeous urban park
posted on Saturday, October 22nd, 2011 at 7:07 pm
It is not a crazy notion to imagine Norfolk's Waterside as a premier restaurant and banquet catering facility. While Waterside has been "the subject of endless studies, surveys and hand-wringing over the years" it continues to sit underutilized and marginally enjoyed, not to mention a financial albatross to the City of Norfolk.



Introducing the "Elizabethan at Waterside", for the Elizabeth River of course: in 2010 GMF+ conducted an architectural and feasibility study for converting the second floor of the western 2/3 of the existing structure into a premier banquet facility. (This equates to the space formerly occupied by Julian's Gaming Bar and Restaurant, some 55,000 SF.)
The study determined the available enclosure would yield 33,000 SF of Dining space, partitioned into 9 separate or combined banquet rooms. In addition there would be 9,000 SF for the Kitchen and Restrooms, 2,500 SF for Lobby and Hallways, and 1,000 SF for private offices. The banquet rooms are bordered on the Southern side by a 10-foot wide balcony overlooking the Elizabeth River. That balcony is totally accessible through the full height glass window walls of the new banquet rooms.
All 200 feet of the existing balconies would be private to the banquet facility, with two existing stairs leading to the boardwalk below. The boardwalk is over a mile in length, extending from the parking garage next to the Berkley Bridge, running along the Bank of Hampton Roads Dominion Tower, the Sheraton Waterside Hotel, Town Point Park and Half Moone Cruise Terminal and Nauticus Museum. The setting is spectacular. Less well-appointed waterfront banquet sites have enjoyed enormous success in Baltimore, Pensacola, and Long Island, NY.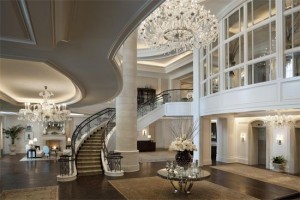 There are already convenient parking towers, across the street and others within walking distance of the facility, not to mention spacious two-way drop-off and valet curb facilities, even space for temporary parking. We determined there would need to be a private ground level entrance at the drop-off curb; a feature easily remodeled into the existing structure and illustrated in the GMF+ study. The setting lends itself to anything the wedding party can imagine, a water vessel entourage, floating barge dancing, outdoor musicians, sunset photos in Town Point Park, a horse-drawn carriage on the boardwalk, there is no limit.
Last month City Manager Marcus Jones is reported to have declared that the 161,000 SF center should be turned over to the private sector. I agree. It could be that the management company that takes over is the anchor-operator of the banquet facility we see as such a logical primary use for the site. The economic development administrators in Norfolk should be looking for this kind of a management company. Tidewater Virginia is underserved by banquet choices for large gatherings. (The GMF+ study has data to demonstrate that fact.) The day is ready for the "Elizabethan at Waterside".
Tags: boardwalk, Elizabeth river, half moone, julians, management, marriott, nauticus, Norfolk, proposal, RFP, The Tide, town point park, Waterside
One Response to "Plan a wedding along a river boardwalk, adjacent to a gorgeous urban park"
|
|