Housing and Redevelopment Agencies + HUD/VASH = A Place to Live for Homeless Veterans
posted on Saturday, October 8th, 2011 at 6:07 pm
On July 14, 2011 it was announced that U.S. Housing and Urban Development is providing $46.2 million to public housing agencies in all 50 states and the District of Columbia to supply permanent housing and case management for 6,790 homeless veterans in America. It was a low-key announcement. It is a modest investment, especially in the face of a housing problem that faces a growing number of our most devoted American citizens. The funding, from HUD's Veterans Affairs Supportive Housing Program (HUD-VASH) , is a coordinated effort by HUD, VA, and local housing agencies to provide permanent housing for homeless veterans. The HUD-VASH program includes rental assistance.
In the official Blog of the U.S. Department of Housing and Urban Development a posting was made on February 22, 2011. It reads: Nearly 76,000 veterans were homeless on a given night in 2009 while about 136,000 vets spent at least one night in a shelter that year, according to the Department of Housing and Urban Development (HUD) and Veterans Affairs (VA). It is the first time that the federal agencies published an analysis of the extent of homelessness among veterans.
One success story of a non-profit project that created new apartments targeted for Homeless Veterans is Victory Village in Titusville, Florida, a twelve-unit permanent affordable rental housing cluster of three quadri-plexes occupied by homeless, disabled veterans.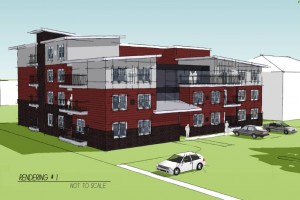 A larger project (32 apartments) is in the planning stages in Virginia Beach, Virginia. Named Cedar Grove, it is being created by Virginia Beach Community Development Corporation to serve homeless disabled veterans who earn under 40% of the area median income. Cedar Grove will be EarthCraft Certified, and universally designed with 16 fully-accessible units. A mix of one and two bedroom apartments will serve single Veterans or Veteran Families. A community room will be available for residents and support services will be provided to link residents to appropriate community resources.
The sketch included here is an early conceptual design for the 4-story building by architects GMF+ Associates, Virginia Beach, VA. The project is being financed by Virginia Housing and Development Authority from its non-competitive LIHTC disabled pool, designed to comply with the VHDA construction requirements for LIHTC – disabled housing and Earthcraft multi-family construction requirements.
Tags: administration, affordable, apartments, authority, disability, handicapped, heroes, homeless, HUD, independent, shelter, subsidized, VASH, veterans, war, wounded
2 Responses to "Housing and Redevelopment Agencies + HUD/VASH = A Place to Live for Homeless Veterans"
|
|