Planning Housing for the Homeless in Virginia Beach – a container house campus
posted on Saturday, November 19th, 2011 at 7:46 pm
A recent report has been disseminated by the City of Virginia Beach, Department of Housing and Neighborhood Preservation, entitled Comparative Analysis of Homeless Facilities and Programs in Selected U.S. Cities and Counties. The study was written in response to citizen advocates for the homeless, that Virginia Beach is not doing enough for its homeless population. The report documents that Virginia Beach has less of a "problem" than the other resort cities studied. It also acknowledges that its Lighthouse Center "day service only" facility is slated to be relocated in the near future.
The homeless advocates in Virginia Beach have been meeting with city officials over the past two months to push for a new facility that will include a full spectrum of services (meals, case management, counseling, healthcare, training, etc.) and overnight shelter for the homeless in the same location. This "campus style" operations center should be located convenient to main transportation routes although there is not special requirement for a particular land use setting or proximity to the resort area.
The opportunity to convert existing building(s) to initiate the new facility is a financially attractive place to start. That is how Norfolk's Union Mission landed its current location in the former Virginia Natural Gas property near Military Circle in 2009. (Earlier this month there was a ground breaking event for the new men's shelter.) Finding the property for a new facility in Virginia Beach will be a controversial undertaking. There is currently $4.3 million budgeted for moving the Lighthouse Center.
I want to say that there is a facilities model that did not show up in the Virginia Beach Comparative Study report. I have named this idea the "campsite campus" model and compare it to the way temporary classroom buildings are set up when some of our public schools become overcrowded, until a capital improvement project is undertaken.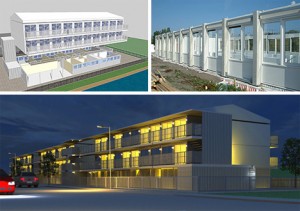 Adjacent to Virginia Beach are the ports of Hampton Roads and a significant shipping terminal industry with an abundance of shipping containers that can be converted into housing units for meeting homeless shelter needs in the near term. This is not a new idea but it would be new to Hampton Roads. It should be thoroughly investigated.
Shown here is a Dutch Salvation Army facility. The ground floor of the building is made of traditional materials and is used for office and social space; the second and third floors are made of shipping containers and are used as individual housing units for tenants.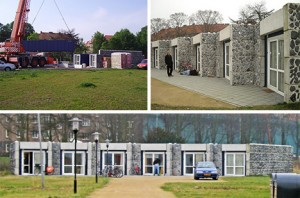 In Danish, the term "skaeve huse" means something like "special houses for special people." This project, shown on the right was built in 2006. It provides housing for people who are unable to procure traditional housing due to mental illness and other special needs.
Roger Chesney reported in his Virginian Pilot column last week that the Virginia Beach Department of Housing and Neighborhood Preservation will need 18 months to open a new facility. That sounds very reasonable to me although it would certainly help accelerate the process if there was an opportunity to use campsite style shelters.
Tags: campus, container, homeless, location, model, Norfolk, shelter, shipping, virginia beach, yurts