You are currently browsing all posts tagged with 'apartments'.
posted on Wednesday, November 27th, 2013 at 2:30 pm
Locating affordable housing opportunities in an already existing neighborhood can get very controversial when a project for a pocket of such households is proposed to be located where none has existed before.  On the other hand planners, funding agencies and the even the public at large are likely to find agreement in the concept of improving housing opportunities for single parent households, the marginally employed , empty nesters, workforce households, the elderly, the infirm, long distance commuters, short term residents, and so on.
Taking a broad-minded view, most would agree that the more disperse affordable housing is integrated into a community the better for society as a whole. It is a less controversial solution to allow an existing single family property owner to provide affordable housing on their own property for their own family member.  But it is difficult to control a semi-independent family member quarters from becoming an apartment for rent on the open market.  Therefore many communities have created restrictions in their zoning regulations that prevent this type of affordable housing from being built.
There is little argument against the economic and social advantages of being able to provide an addition/apartment to an existing house that could serve as a semi-independent suite for an aging parent.  However, to breakthrough the rule that only one dwelling should exist on a lot intended for one house is no small matter in a typical zoning district.  Therefore, getting a permit to build a typical ADU project, such as an apartment above a two-car detached garage, could entail changing the permitted uses in designated zoning districts, changing the definition of a dwelling unit or creating a new type of zoning district, such as what the City of Norfolk has done, to follow below.
The restrictions start with forbidding the installation of more than one kitchen in house zoned for one household.  This law was conceived at a time in the history of urban development patterns when suburbia ruled the future view of American land use; houses looked a lot alike, had the private car parked on a driveway in front of the door to an attached garage and were occupied by a two-parent household with children.  But today the facts are:
The percentage of American households with children under 18 living at home [2009 USA Today] has hit the lowest point — 46% — in half a century.
The majority of today's households are more likely to see the advantages of related or unrelated individuals living at the same address, and eating separately is a part of that living arrangement.
The next most bothersome limitation to providing an Accessory Dwelling Unit on a single family property is the size limit of the accommodations.  In Virginia Beach the ordinance for what is called "a flex suite" provides for a maximum size of 500 SF or 20% of the floor area of the existing house.  This is roughly the area of a two-car garage.  It is very challenging to provide the facilities needed for a semi-independent lifestyle (bedroom, sitting space, kitchen, bath, private entry) in this small space.
A similar floor area restriction is very much related to the general area limit for accessory buildings, including a garage or pool house.  The limit of 500 SF for a detached garage serves as enough space for an enclosure for two cars.  The problem is there is no allowance provision for living space above the garage, typically called a carriage house.  It is very good engineering economy to construct such a living quarters over a garage with its own private entry stair.  But the zoning administrator is apt to count all of the space over the garage as additional square feet.
The criteria for habitable living space is any space with a ceiling height of 7 feet or greater.  This living space definition is found in the International Building Code.  The building official is quick to count any attic space that has a height of 7-0 feet or more as part of the 500 SF limit.  The result of this anomaly is that architects and designers of detached garages must diminish the building height to have a very minimal attic.  The 7-0 living space criteria when combined with the 500 SF floor area limit makes for some very squat looking detached garages.
I have two immediate recommendations that would help clear the way for affordable housing quarters on existing single family properties: (1) allow for a kitchen with its own cooking facilities (range) to be included in the accessory living quarters permit, and (2) do not count living space above a garage as part of the 500 SF of allowable ground area for a detached structure.  Instead, write a code provision that gives planners the discretion to allow accessory dwelling units in designated residential districts that includes kitchens and carriage houses.
The discretionary allowance for ADU's could be required to demonstrate provision for parking for the main house as well as the accessory quarters.  There could be an architectural review of the height and width and stairs for carriage house designs.  In the Norfolk Zoning Ordinance there is a provision for what is called an Urban District.  It reads as follows:
10-12 Urban Residential District (UR).
10-12.1Purpose statement. The purpose of the Urban Residential District is to provide development opportunities in older neighborhoods by encouraging the construction of new, urban homes. The district permits a mixture of townhouses and detached one-family homes, including the possibility of auxiliary structures which can contain a secondary dwelling unit located on larger lots.
10-12.2Auxiliary structure. For purposes of the Urban Residential District, an auxiliary structure is expressly permitted to contain a dwelling unit and shall meet each of the following criteria:
(a) The structure is no greater than the primary dwelling in all dimensional aspects including, but not limited to, building height, width, length, and square footage.
(b) The structure is located on the same lot as the principal dwelling unit.
Some more progressive municipalities have taken steps to allow carriage houses on single-family properties when access and parking spaces are adequately provided.  The end result has not proved catastrophic, even when allowed to be rented to non-family member tenants.  The motivation to allow carriage house tenancy is typically associated with developments where relatively high dwelling unit density is not controversial and vacant property is at a premium.
Tags: ADU, affordable, apartments, carriage house, housing, parking, single family, urban
posted on Thursday, November 7th, 2013 at 2:28 pm
The concept of an In-law apartment or an Accessory Dwelling Unit is highly acclaimed by city planners, sometimes in the same cities that prohibit them.  Take the language of the Virginia Beach zoning ordinance as a case in point.  Section 507 of its code sanctions the value of constructing semi-private living quarters for a senior family member on a property zoned for single family occupancy.  It reads: The purpose of this section is to enhance the opportunities for affordable housing and independent living available to senior citizens and disabled persons, while maintaining the tranquility and integrity of single-family residential neighborhoods.
Section 507 goes on to list several things that are not allowed in such living quarters, limits the size of the quarters to 500 SF, and sets forth additional permit application requirements, including occupancy renewal every two years.  What purpose does this ordinance serve?  Does it discourage In-law suite projects rather than encourage them?  Would a homeowner interested in building such a project be motivated to reveal to the permits office what they are doing?  The answers "None, Yes, and No" are the obvious response. 
This is a significant issue.  Housing need surveys have determined that the demand for such projects has been increasing steadily,  especially in recent years, as the baby boomer generation is entering their retirement years.  The sad truth is that too many In-law apartments that have been built are illegal or at least under the radar of permitting authorities that have not seen fit to create a proper ordinance to meet the demand. Progressive localities have addressed this housing need by adopting ordinances that guide such development rather than discourage it.
An In-law apartment might be an apartment over a garage or a basement suite. Other variations are dwellings attached to a single-family home or a living space completely detached from the home, like a small guest house. It all cases they should their own entrance, kitchen, bathroom and living space. Common space, such as laundry rooms and living rooms, are usually allowed. The separated living space required is generally from 400 to 800 square feet.
Typical of the arguments against allowing in-law apartments are imagined parking problems, overcrowding, increased traffic and aesthetic impact on a neighborhood. Planners generally agree that all of these issues can be addressed in properly worded provisions of an ordinance that allows In-law apartments in at least some designated residential zoning district categories.  Some 13 years ago, the AARP, in consort with the APA, American Planning Association, published a model ordinance guideline for what it called ACCESSORY DWELLING UNITS, ADU's.  The guideline continues to serve as a valuable resource today for jurisdictions writing their own provisions for permitting ADU's in designated zoning districts.

In a research study published in 2008 by HUD, Office of Policy Development and Research, it concluded: Communities find that allowing accessory dwelling units is advantageous in many ways. In addition to providing practi­cal housing options for the elderly, disabled, empty nesters, and young workers, ADUs can provide additional rental income for homeowners. ADUs are smaller in size, do not require the extra expense of purchasing land, can be devel­oped by converting existing structures, and do not require additional infrastructure.
The HUD study was derived by investigating the experience of several zoning jurisdictions that had adopted ADU ordinances including one in Virginia, Fauquier County, where permit approval depends the size of the property, and availability of septic/sewer and water services. Each of three different types of units is approved by the Fauquier Office of Zoning Permitting and Inspections, provided that the units meet zoning requirements. According to the county's zoning office, 155 accessory dwelling units and 37 efficiency apartments were permitted from 1997 to 2007.
Call them Accessory Dwelling Units or In-law suites, they are an inexpensive way for municipalities to increase their housing supply, while also increasing their property tax base. By providing affordable housing options for low- and moderate-income residents, communities can retain population groups that might otherwise be priced out of the housing market.  When accessory dwellings are allowed in the community, homeowners can generally qualify for home improvement loans to finance the construction or remodel.
Tags: AARP, accessory, ADU, affordable, APA, apartments, dwelling, housing, in-law, suites, units, zoning
posted on Wednesday, January 18th, 2012 at 8:11 pm
The front page of the Virginian Pilot (1/17/2012) shows the first of five proposals for the resurrection of Norfolk Waterside. Titled BOLD PLAN FOR WATERSIDE, submitted by Harvey Lindsay Development, there is some inconsistent thinking in this particular Bold Plan for Waterside:


1. Waterside was not provided a stop on the Tide Light Rail. This represents a planning decision that it was not a priority for inclusion in the downtown circulation pattern for shopping or hotels. Rethinking that omission is paramount to any resurrection plan of Waterside. It is not addressed in the BOLD PLAN.
2. If the City of Norfolk craves a convention center Waterside could already serve that purpose with only modest alterations. The Harvey Lindsay convention center design concept proposes a 30,000 SF exhibition hall. The second floor of the East side of Waterside, formerly occupied by Julian's, has potentially more than 60,000 SF of exhibition space available, without replacing the building. (There are other existing venues already available for attracting modest size convention business: Half Moon, Marriott, Sheridan, Nauticus, etc.)
3. What's missing in downtown Norfolk is not more hotel rooms as proposed on Granby Street. What is needed is more residents who love to live in Norfolk, in apartment buildings. (Look at the wonderful waterfront urban development patterns in the most beautiful cities in Europe: Barcelona, Oslo, Frankfurt, Rotterdam, Stockholm, etc. Apartments are the predominant use, with good reason.) The movement toward new urbanism in the USA has many successful examples of street level shopping and pedestrian oriented street life with apartments above.
4. If Norfolk is inclined to saddle its citizens with a bill for $76,000,000, and more, to make a new Waterside what will it be foregoing by that choice. What about allocating subsidies to get Half Moon passenger terminal operating effectively? (It wasn't long ago we were told that the passenger terminal had "pumped $100,000,000 in the local economy" 2001-2007.)
5. When the redevelopment plan for MacArthur Center was hatched it was a bad day for Waterside. The vision of Norfolk Waterside as a twin to Baltimore Inner Harbor was probably a stretch of the imagination. But it was such a compelling idea. The truth is that while Norfolk is a beautiful urban place that is getting better every year it will be generations before it can support the walkable retail environment that exists in Baltimore. (The density of residents in urban Norfolk cannot compare to Baltimore.)
6. I am convinced about the value of green building strategies as an important design consideration for all future construction. (There is a lot of "gizmo green" products and systems that are being marketed vigorously to publicize participation. That can be a distraction from meaningful green principles.) Green building starts with creating buildings that last, for many many generations. Waterside has some life left to go. It is barely 25 years old.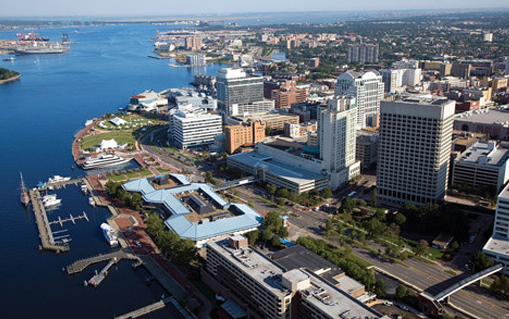 I am looking forward to reading other proposals for the resurrection of Waterside. It is hard to see the Bold New Plan as a step in the right direction. I would like to post comments from my readers.
Tags: adaptive reuse, apartments, density, The Tide, waterfront, Waterside