You are currently browsing all posts tagged with 'commuter'.
posted on Friday, September 2nd, 2011 at 8:05 pm
I am kicking off my new blog on the inaugural week of the light rail in Norfolk, Virginia, an appropriate beginning to my "what say you" that is directed at urban planning issues especially as concerns designing houses and residential neighborhood communities, focused on the creation and preservation of what Steve Mouzon www.mouzon.com refers to as our "most loved places."
Join in the excitement about Light Rail public transit in Hampton Roads, Virginia. Move over David Letterman, here are the top ten reasons to celebrate the Tide: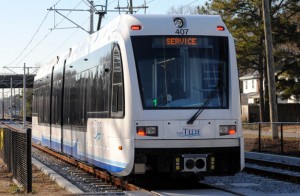 10. The cost of the Tide came in about the same as Light Rail in Houston that has a population 10 times as great, at about the same cost per mile. Hooray for tiny Norfolk!
9. The inaugural free ridership days (August 19-21, 2012) were extended for an additional a full week due to the popularity that was exhibited on opening day.
8. Even Norfolk natives are blown away by the visual connections that have transformed 7.4 miles of electric train into the golden strip urban of street life.
7. Economic incentives for businesses to locate near the light rail should increase the investment in residential neighborhoods, stimulate local-owner businesses and create pedestrian retail shopping communities.
6. Passengers can bring their bicycles on the Tide; there are wall brackets in the cars to hang one by folding back a pair of seats. Someday maybe there will be urban bikes in Norfolk.
5. It is a joy to ride the Tide to a baseball game at Harbor Park and avoid the parking lot mania before and after a game. Attendance is already jumped a notch since the Tide is running.
4. For a senior (over 60) going to a movie at Macarthur Center from Newtown Road will cost less for the ride than parking at MacArthur Center (not to mention saving the gasoline to drive there).
3. If jogging is your fancy, run around the beautiful Hague in Norfolk, park for free 7 miles away at Newtown Road station, enjoy an air conditioned recovery ride back to your car.
2. A great idea to visit downtown decorations at Christmas is to get a day pass on the Tide that also gives you a ticket for the Paddlewheel ferry from Waterside to High Street in Portsmouth and back. Enjoy the former Coleman Nursery Winter Wonderland in Olde Towne. Winter Wonderland in Olde Towne
1. Norfolk has pulled it off! Every year the extension of the Tide to Virginia Beach Resort strip is delayed will cost an additional $105,000,000 .…with an inflation rate on capital investment dollars for light rail transit tracking at 13 % annually. The extension estimate is currently reported at $807,000,000 (The Virginian-Pilot, April 9, 2011).
Tags: commuter, convenience, extension, Hampton Roads Transit, HRT, Light Rail, Norfolk, planning, Public Transit, The Tide, Town Center, traffic, transportation