You are currently browsing all posts tagged with 'planning'.
posted on Sunday, January 29th, 2012 at 8:46 pm
The Virginian Pilot this week has been chock-a-block with significant stories that could foretell some remarkable physical transformations of Hampton Roads for years to come.  The visions of the future urban planning opportunities are all around.
1. HRT has established a bus route to Norfolk International Airport, 1/27/12 (how long have our airline travelers been deprived of this simple service?)  It starts on February 5 and will be in effect only until March 10 to test customer interest.  I think everyone should drive over to the airport and take a bus ride someplace to rack up some passenger data that will establish the service permanently.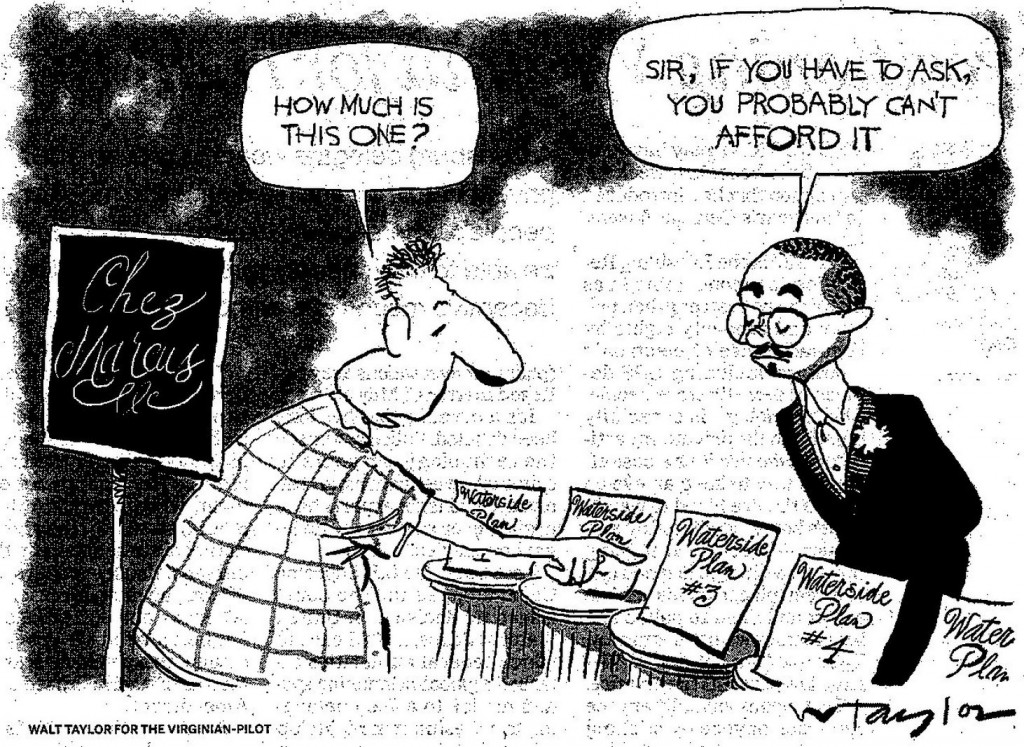 2. The editorial cartoon 1/29/12 for choosing a plan for the future of Waterside was worth a thousand words ….resounding the sentiments expressed by one of the Norfolk City council members at this week's public display of the five plans under consideration: "Do we have to choose one of these?" Those of us in the audience of onlookers know the answer full well: "we want none of these plans if you please, they are all baloney."
3. A really BIG item this week is the page one story 1/29/12 about a possible referendum in November for extending The Tide light rail into Virginia Beach. This is remarkable since it un-stalls the opportunity to get federal stimulus funds for the project before it's too late.
4. Urban Outfitters is coming to 271 Granby Street.  This news got a huge spread in the Sunday business section 1/22/12.  It is actually is very good news, foretelling future prospects of re-establishing downtown Norfolk as retail shopping destination.  Congratulations to developer Bobby Wright.  This event brought out the editorial commentary of a staff writer, Michelle Washington, to emphasize the belief held by city and regional planners that this kind of development is the beginning of Norfolk's reemergence as a pedestrian "happening" place, in her words: the city's Cool Factor.
5. Then there was the story about the Kempsville Historic Master Plan, Beacon 1/29/12, where citizens are concerned about the crossroads acreage at Witchduck Road and Princess Anne.  It is proposed to rezone the area to higher density residential use, namely apartments on the property surrounding the former Kemps Landing School structure.  We hope that the fears of surrounding residents can be assuaged to allow for the opportunity to give this geographic confluence a sense of place that it lacks at the present time.  Kempsville presently is hardly more than a zip code and a school district.  Where is it really?  How does someone know they are in Kempsville?  The change of zoning will allow for a place-making opportunity that careful planning can shape into a desirable place to come, to walk, to mingle and to identify.
6. My last entry of the week's recap of urban planning opportunities in the Virginian Pilot is kind of "tongue and cheek", I admit.  There was a story in the travel section about the Henry Ford Museum in Dearborn, Michigan.  It struck me that cars belong in a museum and that maybe we will stop planning our cities and neighborhoods like life depends on the automobile. I visited Copenhagen this past year, where gasoline is the equivalent of $12 per gallon and the sales tax on purchasing a new car is 180%.  In such an environment one learns quickly how to exist without depending on a car.  The end result is walkable urban living patterns and some of the best shopping streets in the world.
Tags: Hampton Roads, HRT, Kempsville, planning, The Tide, urban, virginia beach, walkable, Waterside, zoning
posted on Saturday, November 12th, 2011 at 7:50 pm
The restoration and preservation of quality neighborhoods with sound housing stock is a common mantra for city planners and redevelopment authorities. The typical agenda for achieving this ideal is by setting limits of where and what can be built within jurisdictional boundaries; regulating the methods and quality of construction by State building codes. This effort may be the "stick" approach as opposed to using the "carrot" method. I want to report how the Norfolk Redevelopment and Housing Authority is successfully experimenting with the other approach.


A "carrot" approach is so logical it is surprising how little effort has been spent institutionalizing it compared to the creation of endless enforcement of regulations and volumes of land use maps. Simply ask the question: How did quality building and good planning result in middle ages or other places and times before regulations? ANSWER: There was an attitude of self regulation and workmanship pride among the tradesmen. It set a standard of quality if not excellence.
The Design and Construction Services Department within NRHA has created what it calls the Builders and Designers Guild. In the tradition of fostering pride and high standards of workmanship, builders of demonstrated experience and favorable reputation can apply for membership. When a single-family property is released for new construction and/or rehabilitation only Guild Builders are eligible to submit bids. The guild has been in existence for just five years, following a set of guidelines for membership eligibility, benefits, quality assurance, and guild sustenance.
Pre-selected house plans for a new project are identified by NRHA architects, from a library of plans that are evaluated for consideration on a new project site. The plans come from Guild Architects and Designers and other sources. The criteria for preferred architectural styles in the design of new house plans must be consistent with traditional neighborhood designs as published in its Pattern Book for Norfolk Neighborhoods.
New project properties are conveyed to a guild-member builder with deed convenants to be carried forward with the resale of the property to help prevent the recurrence of blight and to set a prevailing standard of architectural style to be maintained.
Guild builders and designers are brought together for periodic meetings to encourage sharing of knowledge and recent experiences as well as attend educational presentations about new products and methods of construction. Recently the emphasis has been on "green" building techniques and products. It is currently required that every new home on an NRHA property must meet the standards of at least one of the third-party green accreditation programs.
Among the most recent guild initiatives has been the establishment of Guild Builder branding and logo identification promoting its reputation for value, quality, commitment, integrity and green conservation. A video has been posted on YouTube that tells the story of the progress and pride that has emerged among the members of NRHA's Builders and Designers Guild.
Tags: builders guild, Norfolk, NRHA, planning, redevelopment and housing, Virginia
posted on Friday, September 2nd, 2011 at 8:05 pm
I am kicking off my new blog on the inaugural week of the light rail in Norfolk, Virginia, an appropriate beginning to my "what say you" that is directed at urban planning issues especially as concerns designing houses and residential neighborhood communities, focused on the creation and preservation of what Steve Mouzon www.mouzon.com refers to as our "most loved places."
Join in the excitement about Light Rail public transit in Hampton Roads, Virginia. Move over David Letterman, here are the top ten reasons to celebrate the Tide: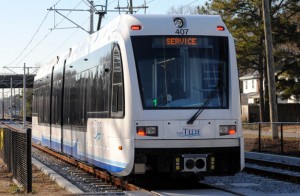 10. The cost of the Tide came in about the same as Light Rail in Houston that has a population 10 times as great, at about the same cost per mile. Hooray for tiny Norfolk!
9. The inaugural free ridership days (August 19-21, 2012) were extended for an additional a full week due to the popularity that was exhibited on opening day.
8. Even Norfolk natives are blown away by the visual connections that have transformed 7.4 miles of electric train into the golden strip urban of street life.
7. Economic incentives for businesses to locate near the light rail should increase the investment in residential neighborhoods, stimulate local-owner businesses and create pedestrian retail shopping communities.
6. Passengers can bring their bicycles on the Tide; there are wall brackets in the cars to hang one by folding back a pair of seats. Someday maybe there will be urban bikes in Norfolk.
5. It is a joy to ride the Tide to a baseball game at Harbor Park and avoid the parking lot mania before and after a game. Attendance is already jumped a notch since the Tide is running.
4. For a senior (over 60) going to a movie at Macarthur Center from Newtown Road will cost less for the ride than parking at MacArthur Center (not to mention saving the gasoline to drive there).
3. If jogging is your fancy, run around the beautiful Hague in Norfolk, park for free 7 miles away at Newtown Road station, enjoy an air conditioned recovery ride back to your car.
2. A great idea to visit downtown decorations at Christmas is to get a day pass on the Tide that also gives you a ticket for the Paddlewheel ferry from Waterside to High Street in Portsmouth and back. Enjoy the former Coleman Nursery Winter Wonderland in Olde Towne. Winter Wonderland in Olde Towne
1. Norfolk has pulled it off! Every year the extension of the Tide to Virginia Beach Resort strip is delayed will cost an additional $105,000,000 .…with an inflation rate on capital investment dollars for light rail transit tracking at 13 % annually. The extension estimate is currently reported at $807,000,000 (The Virginian-Pilot, April 9, 2011).
Tags: commuter, convenience, extension, Hampton Roads Transit, HRT, Light Rail, Norfolk, planning, Public Transit, The Tide, Town Center, traffic, transportation