You are currently browsing all posts tagged with 'plans'.
posted on Tuesday, May 7th, 2013 at 10:21 am
Among the blight clearance strategies of a Redevelopment and Housing Authority they routinely purchase properties that are in poor condition or foreclosed or otherwise unsuitable for the health, safety and welfare of a neighborhood. This approach is especially effective when contiguous properties are involved and it can implement  several houses at a time to replace deteriorated housing stock with new affordable construction.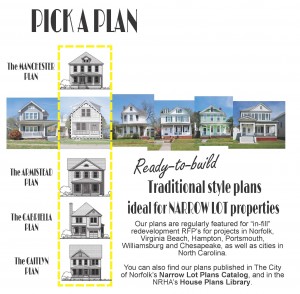 In many cases an RHA finds itself with an opportunity to call for new homes to be built in a similar architectural style as the historical character of the existing neighborhood. This is accomplished by publishing Requests for Proposals (RFP's) asking for builders and/or developers to use certain pre-selected plans. The plans come from portfolios where independent architects publish ready-to-build editions of historically appropriate traditional neighborhood designs.
Many urban homes were originally built on the small narrow lots platted in the early 1900's. Some of these house plans came from pattern-book catalogs such as Sears and Roebuck. It is appropriate that a replacement house plan, a century later, should come from a similar catalog of plans. The character of the old neighborhood can be retained with this strategy of individual lot infill projects.
GMF+ attended the Virginia Association of Housing and Community Development Officials VAHCDO conference in May 2013 in Virginia Beach.  It provided a vendor table display at the event where a catalog of its historical urban infill house plans was available. The same plans can be seen on this website as NARROW LOT PLANS.  These plans are regularly featured in RFP's for in-fill projects in Norfolk, Virginia Beach, Portsmouth, Williamsburg and Chesapeake, as well as cities in North Carolina.
Tags: infill, narrow lot, Neighborhood, Norfolk, PHA, plans, RHA, TND, urban, VAHCDO
posted on Wednesday, September 14th, 2011 at 6:15 pm
Redevelopment planners are facing a new challenge for replacing deteriorated single-family houses with new homes that conform to Traditional Neighborhood Design standards, including that prospective buyers cannot qualify for the selling price of the new home. A sagging economic climate has made getting financing to purchase a new home increasing difficult for more and more prospective homeowners. The cost of construction has not dropped enough to make new homes more affordable. The result is many builders are unwilling to invest in new construction for urban in-fill properties.
Norfolk Redevelopment and Housing Authority recently took a proactive approach to meeting this challenge. It is based on the assumption that if it could offer to their single-family builders new TND house plan that was less expensive to build, the construction cost could come down to a selling price that would enable today's homebuyer to qualify for its purchase. Willing builders would jump at the chance, right?
How do they find a satisfactory house plan that meets the design standards of traditional neighborhood design and costs less to build?
Here are ten ways to accomplish that objective:
1. Reduce square feet. A 3-bedroom house on a small lot can be as small as 1,200 SF without being too small to be comfortable. Neighborhood streetscape density can dictate the maximum space between houses and the appropriate house width. This considera-
tion along with minimum room widths can increase the minimum to around 1,300 SF.
2. Reduce room separation walls. Open kitchens to dining areas; living rooms and foyers; hallways and laundry space.
3. Reduce bathrooms. Historical house plans from the early 20th Century typically had one full bath for a whole house. Today we can design for a single full bath located in the hall convenient to all the bedrooms, with chambered areas for multiple use; a powder room on the first floor is sufficient unless there is a bedroom.
4. Reduce building offsets. Straight walls use less lumber to construct; long walls are more cost efficient that short walls; a square is the most efficient building shape.
5. Modest size bedrooms are okay. Give priority to large spaces in the open areas where the family gathers as a group. Historically speaking, house plans typically had small bedrooms, in Europe they still do.
6. Concentrate plumbing into one quadrant. Minimize the length and number of drainage and water lines.
7. Avoid unnecessary windows and doors. Design for window balance and proportions on the front profile as viewed from the street, other sides of the house can have one window per room.
8. Reduce the number of shingles on the roof. Keep roof slopes the minimum necessary to achieve historical architectural style; avoid dormers.
9. Minimize porches and details. TND architecture will certainly deal with a covered entry porch. Strive to keep it simple and locate it as close as allowed to the sidewalk.
10. Locate house with space on one side to park at least one car off the street. It is desirable to leave enough space to construct a detached garage at a later time.
NRHA sent out an RFP in July, 2011, to local architects and builders, to develop new house plans that would meet affordability parameters based upon a published preliminary plan that its in-house architects derived. The resulting construction plans would be published in its on-line HOUSE PLANS LIBRARY where pre-approved urban plans are displayed for purchase from the architects and designers who own the copyrights. It remains to be seen whether the plans will found "acceptable" by builders for speculative projects or their own marketing agenda. Dozens of ready-to-build urban plans can be purchased from on-line plans websites.
It is worth comment what other planning approaches may be available to spur house construction action toward affordable products in the urban setting. What is the likelihood of success with the NRHA plans it is developing?
Tags: affordable, architecture, compact, design, house plan, low income, Neighborhood, new, plans, porches, sidewalks, single family, small, traditional, urban, workforce