You are currently browsing all posts tagged with 'preservation'.
posted on Saturday, September 24th, 2011 at 7:47 pm
When the original use of a structure becomes obsolete or is no longer required, as with older buildings from the industrial revolution, architects have the opportunity to change the primary function of the structure, while retaining some of the existing architectural character that makes a building unique. The Captain George's Restaurant in Williamsburg, Virginia is an example of a large adaptive reuse project. At the time it was purchased by the owner's the prior use was as the Williamsburg National Wax Museum, 1986.
Among the most rewarding redevelopment projects are the conversions and reuse of existing warehouses, school buildings, offices and other types to apartments. Such projects are rewarding in the context of providing affordable housing in established locations of lifestyle convenience to the prospective residents: neighborhood shopping, public transportation, schools, recreational and cultural opportunities.
Such an opportunity is under consideration for the Kemps Landing School building in Virginia Beach, Virginia.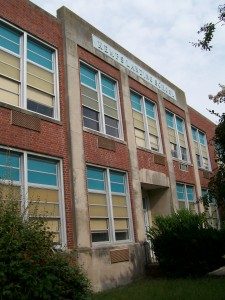 The current structure was built on the site of previous public schools for the Kempsville community. The old county jail was the first public school after the courthouse moved to Princess Anne in 1824, and remained the school location until the late nineteenth century when it was replaced by a frame structure which stood near the east bank of the Eastern Branch of the Elizabeth River. The existing two-story structure, completed in 1941, continued in use until it became part of the Historic Kempsville Area Master Plan, adopted in 2006.
On the agenda for project execution Virginia Beach City Planners are faced with three administrative tasks:
1. gaining neighborhood acceptance
2. adopting appropriate prescriptive land use regulations
3. establishing building and safety guideline standards within the spirit of the current building codes (if not the letter)
These challenges are "business as usual" for rewarding adaptive reuse projects.
The concern about gaining neighborhood acceptance diminishes with each successful undertaking. There really is no other way than to handle each conversion on a project by project basis. This is accomplished by open meetings and hearings with the respective neighborhood civic organizations. No new science here. Good intentions are eventually communicated and approved, albeit with conditions as derived from the meetings.
In the case of the other two challenges it is worth noting that in cities where adaptive reuse has been around for a long time guidelines an ordinances have been written to streamline the process. Take Los Angeles, CA for example. It has had an Adaptive Reuse ordinance and guidelines in effect since 1999. The latest edition was published in 2006. Provisions in The LA Handbook provide greater flexibility in meeting zoning and building code requirements for building conversions.
In regard to Zoning and Land Use Ordinances the LA Adaptive Reuse Ordinance includes: (1) many non-compliant conditions, such as building height, parking, floor area and setbacks are permitted without requiring a variance, as well as residential density requirements, (2) new mezzanines less than one-third the floor area of the space below are not counted as floor area, (3) discretionary review by the planning department is not a requirement.
In regard to Construction Codes the LA Adaptive Reuse Ordinance offers conditions in which the conversion of the original structure does not automatically trigger disabled access requirements in the residential use areas. Disabled access is still required in areas used by employees and that are open to the general public.
The virtues of Adaptive Reuse as an urban redevelopment strategy is compelling, including land conservation and reducing the amount of sprawl. Adaptive reuse is also related to the field of historic preservation. I think it would be energy well spent for planners to endeavor to compose the new Adaptive Reuse regulations that are useful for a variety of projects, rather than just the one that is on the table at a given moment in time. I am interested in your comments and stories of your own experiences.
Tags: accessible, adaptive, building codes, historical, landmark, Neighborhood, pedestrian, place, preservation, reuse, tax credits, urban, walkable, zoning
posted on Friday, September 9th, 2011 at 7:50 pm
The life expectancy of a 100+ year-old frame houses reaches a point of critical repair or removal that is a challenge for city planners to maintain traditional urban neighborhoods, such as Norfolk, VA. How can city planners control what happens to maintain or restore the original character of these streets? ENTER: The Design Center conveniently operating in a storefront on a sidewalk of the downtown core: an administrative office, under the Department of Planning, to advise/regulate the redevelopment and preservation of urban neighborhoods.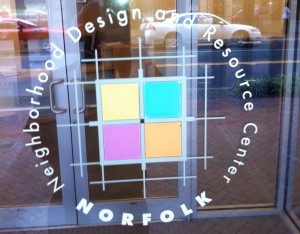 Any new/replacement house on a lot 50' or narrower has to be approved by the watchful eye of The Design Center. (At Building Permit Review no plan gets a permit unless and until its design is approved by the Design Center.) Where does the DC get the plans to recommend for replacement? ANSWER: from its catalog of prior-approved plans contributed by local architects and designers. As an alternative, the property owner can create a new plan for submittal/review/approval by the Design Center.  Here's a sample of some ready-to-build urban house plans.
The redevelopment of a NARROW LOT is an aggravated issue in Norfolk, Virginia. In the early 1900's developments were platted with 25' and 30' lots. These small lots had a very attractive price for prospective buyers. It may have been a "bait and switch" marketing strategy since many of the lots were sold in pairs. But it did result many streets with very compact home frontages. A hundred years later we now see these streets as "quaint", "neighborly", "walkable", but not "parkable" (damn that automobile!)
Since any given neighborhood street has its own special architectural character or style, house plan choices recommended by the Design Center are limited to those that are best suited upon an inspection and photo documentation of the adjacent properties and across the street. This architectural sensitivity has produced very constructive results, without a backlash of homeowner controversy. Norfolk's Design Center initiated its mission in 2004, staffed by planners and aspiring architects including interns from nearby Hampton University, School of Architecture.
Added to the mission of prescribing acceptable house plan designs for narrow lot properties the Design Center has been available for free "drop in" architectural consultation services for a homeowner wanting to make improvements to an already existing house needing repairs or an addition. This consultation included a staff designer making a visual site inspection of the resident's home to measure and photograph an existing structure, to talk to the home owner about their desired improvements and additions and to provide conceptual design recommendations for the homeowner to pursue.
The "cherry on the top" of this new urbanism agenda is a TAX ABATEMENT program whereby a homeowner could apply for a deferred increase in the real estate taxes (up to 10 years worth) associated with the construction improvements consistent with the conceptual design recommendations provided by the Design Center. What could be simpler than that? …an incentive to control the original architectural neighborhood style, historical charm, pedestrian livability. Are you loving it?

Ready for the back story? Everyone loved it, including local new urbanism architects, like yours truly, since we participated in providing those pre-approved plans. It also wasn't too mysterious to flip through the plans catalog to find the name of a local architect that would be able to complete the building plans for additions and alterations that would gain tax abatement approval. That happy world came to an end in 2011 with a cutback in local government funding. The free consultation services are no more. The storefront where citizens walked in to discuss their addition plans has closed its doors.
The operational model of the Norfolk Design Center has been envied by municipalities for years, including Baltimore, Portsmouth, Virginia Beach, Newport News, Williamsburg, and others. The more character there is to preserve in a city's existing neighborhood street fabric the greater the appeal of this model to preserve and control it. It was staffed by two full-time architects, part-time architect interns, volunteers and staff. It became a lunch-and-learn venue for architects in the Hampton Roads AIA to attend special seminars and other times for citizens to get guidance for product information and architectural design styling.
I am interested in feedback on value of this model for architectural design control for preserving and promoting the ideals of new urbanism, from planners, homeowners and other design professionals. Is the model for the Design Center an applicable idea for the city where you live? How should it be housed and staffed to reduce expenses? In Norfolk the tax abatement program and the narrow lot approval regulatory authority have moved back to the regular administrative offices of Norfolk City Planning. I wonder what difference this will make in what it is able to accomplish. I think it is a sad loss.
Tags: architecture, Design Center, narrow lot, Neighborhood, new urbanism, Norfolk, pattern book, preservation, resource center, tax abatement, traditional, urban