You are currently browsing all posts tagged with 'waterfront'.
posted on Wednesday, January 18th, 2012 at 8:11 pm
The front page of the Virginian Pilot (1/17/2012) shows the first of five proposals for the resurrection of Norfolk Waterside. Titled BOLD PLAN FOR WATERSIDE, submitted by Harvey Lindsay Development, there is some inconsistent thinking in this particular Bold Plan for Waterside:


1. Waterside was not provided a stop on the Tide Light Rail. This represents a planning decision that it was not a priority for inclusion in the downtown circulation pattern for shopping or hotels. Rethinking that omission is paramount to any resurrection plan of Waterside. It is not addressed in the BOLD PLAN.
2. If the City of Norfolk craves a convention center Waterside could already serve that purpose with only modest alterations. The Harvey Lindsay convention center design concept proposes a 30,000 SF exhibition hall. The second floor of the East side of Waterside, formerly occupied by Julian's, has potentially more than 60,000 SF of exhibition space available, without replacing the building. (There are other existing venues already available for attracting modest size convention business: Half Moon, Marriott, Sheridan, Nauticus, etc.)
3. What's missing in downtown Norfolk is not more hotel rooms as proposed on Granby Street. What is needed is more residents who love to live in Norfolk, in apartment buildings. (Look at the wonderful waterfront urban development patterns in the most beautiful cities in Europe: Barcelona, Oslo, Frankfurt, Rotterdam, Stockholm, etc. Apartments are the predominant use, with good reason.) The movement toward new urbanism in the USA has many successful examples of street level shopping and pedestrian oriented street life with apartments above.
4. If Norfolk is inclined to saddle its citizens with a bill for $76,000,000, and more, to make a new Waterside what will it be foregoing by that choice. What about allocating subsidies to get Half Moon passenger terminal operating effectively? (It wasn't long ago we were told that the passenger terminal had "pumped $100,000,000 in the local economy" 2001-2007.)
5. When the redevelopment plan for MacArthur Center was hatched it was a bad day for Waterside. The vision of Norfolk Waterside as a twin to Baltimore Inner Harbor was probably a stretch of the imagination. But it was such a compelling idea. The truth is that while Norfolk is a beautiful urban place that is getting better every year it will be generations before it can support the walkable retail environment that exists in Baltimore. (The density of residents in urban Norfolk cannot compare to Baltimore.)
6. I am convinced about the value of green building strategies as an important design consideration for all future construction. (There is a lot of "gizmo green" products and systems that are being marketed vigorously to publicize participation. That can be a distraction from meaningful green principles.) Green building starts with creating buildings that last, for many many generations. Waterside has some life left to go. It is barely 25 years old.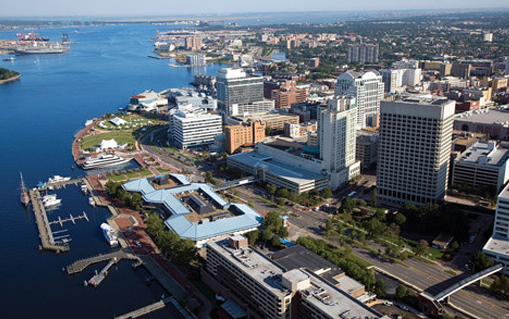 I am looking forward to reading other proposals for the resurrection of Waterside. It is hard to see the Bold New Plan as a step in the right direction. I would like to post comments from my readers.
Tags: adaptive reuse, apartments, density, The Tide, waterfront, Waterside