You are currently browsing all posts tagged with 'Waterside'.
posted on Sunday, January 29th, 2012 at 8:46 pm
The Virginian Pilot this week has been chock-a-block with significant stories that could foretell some remarkable physical transformations of Hampton Roads for years to come.  The visions of the future urban planning opportunities are all around.
1. HRT has established a bus route to Norfolk International Airport, 1/27/12 (how long have our airline travelers been deprived of this simple service?)  It starts on February 5 and will be in effect only until March 10 to test customer interest.  I think everyone should drive over to the airport and take a bus ride someplace to rack up some passenger data that will establish the service permanently.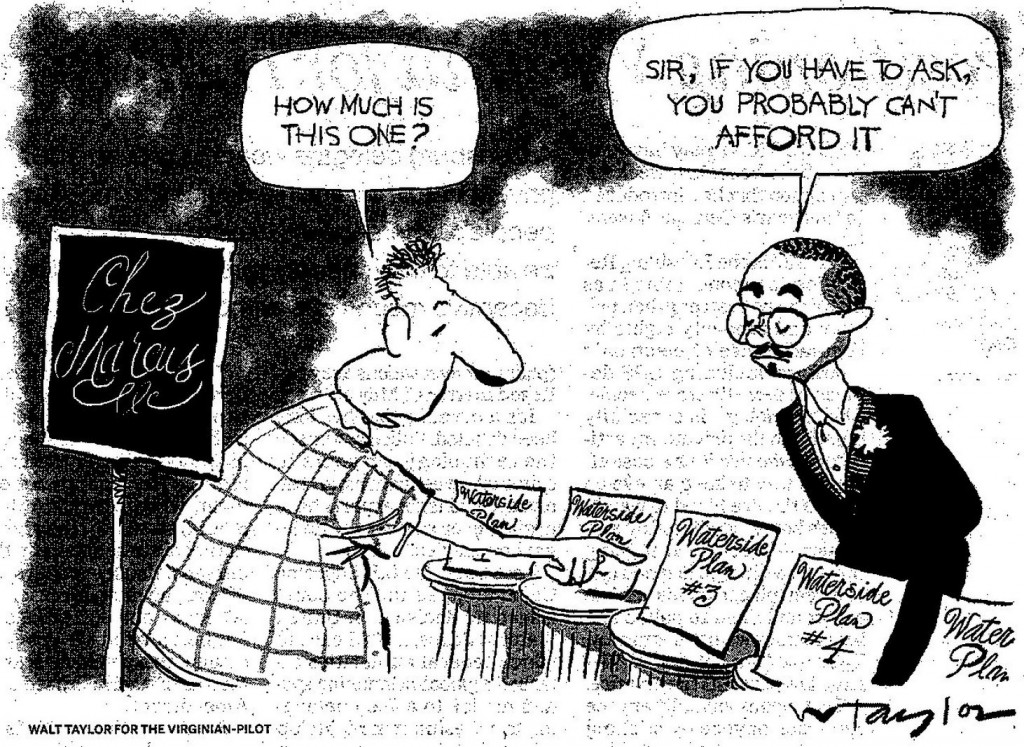 2. The editorial cartoon 1/29/12 for choosing a plan for the future of Waterside was worth a thousand words ….resounding the sentiments expressed by one of the Norfolk City council members at this week's public display of the five plans under consideration: "Do we have to choose one of these?" Those of us in the audience of onlookers know the answer full well: "we want none of these plans if you please, they are all baloney."
3. A really BIG item this week is the page one story 1/29/12 about a possible referendum in November for extending The Tide light rail into Virginia Beach. This is remarkable since it un-stalls the opportunity to get federal stimulus funds for the project before it's too late.
4. Urban Outfitters is coming to 271 Granby Street.  This news got a huge spread in the Sunday business section 1/22/12.  It is actually is very good news, foretelling future prospects of re-establishing downtown Norfolk as retail shopping destination.  Congratulations to developer Bobby Wright.  This event brought out the editorial commentary of a staff writer, Michelle Washington, to emphasize the belief held by city and regional planners that this kind of development is the beginning of Norfolk's reemergence as a pedestrian "happening" place, in her words: the city's Cool Factor.
5. Then there was the story about the Kempsville Historic Master Plan, Beacon 1/29/12, where citizens are concerned about the crossroads acreage at Witchduck Road and Princess Anne.  It is proposed to rezone the area to higher density residential use, namely apartments on the property surrounding the former Kemps Landing School structure.  We hope that the fears of surrounding residents can be assuaged to allow for the opportunity to give this geographic confluence a sense of place that it lacks at the present time.  Kempsville presently is hardly more than a zip code and a school district.  Where is it really?  How does someone know they are in Kempsville?  The change of zoning will allow for a place-making opportunity that careful planning can shape into a desirable place to come, to walk, to mingle and to identify.
6. My last entry of the week's recap of urban planning opportunities in the Virginian Pilot is kind of "tongue and cheek", I admit.  There was a story in the travel section about the Henry Ford Museum in Dearborn, Michigan.  It struck me that cars belong in a museum and that maybe we will stop planning our cities and neighborhoods like life depends on the automobile. I visited Copenhagen this past year, where gasoline is the equivalent of $12 per gallon and the sales tax on purchasing a new car is 180%.  In such an environment one learns quickly how to exist without depending on a car.  The end result is walkable urban living patterns and some of the best shopping streets in the world.
Tags: Hampton Roads, HRT, Kempsville, planning, The Tide, urban, virginia beach, walkable, Waterside, zoning